Flamenco trio. Auditorio Fundación Ávila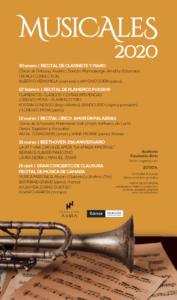 Lorenzo Moya Flamenco Trío:
MUSICALES 202o. Auditorio Fundación Ávila
C/ Pedro de Lagasca
05001 Ávila
Entrada 5€. Niños entrada gratuita
Recently selected in the Flamenco Eñe 2018 contest of the SGAE Foundation for international festival managers, a new flamenco project is presented where three main components are mentioned. First, a profound homage is paid to the great masters of the flamenco guitar that have marked the current evolution of flamenco. The second is the inspiration in Spanish music, both popular and classical roots. The third is the creativity itself, where the jazz treatment and previous musical experiences can be seen in the own compositions that are presented. For this occasion, he is accompanied by two great musicians – Yelsy Heredia on the double bass and Bandolero on percussion – with brilliant careers and extensive experience with great figures of flamenco and jazz.
Lorenzo Moya, Piano
Kostan González, Bass
Bandolero Percusión